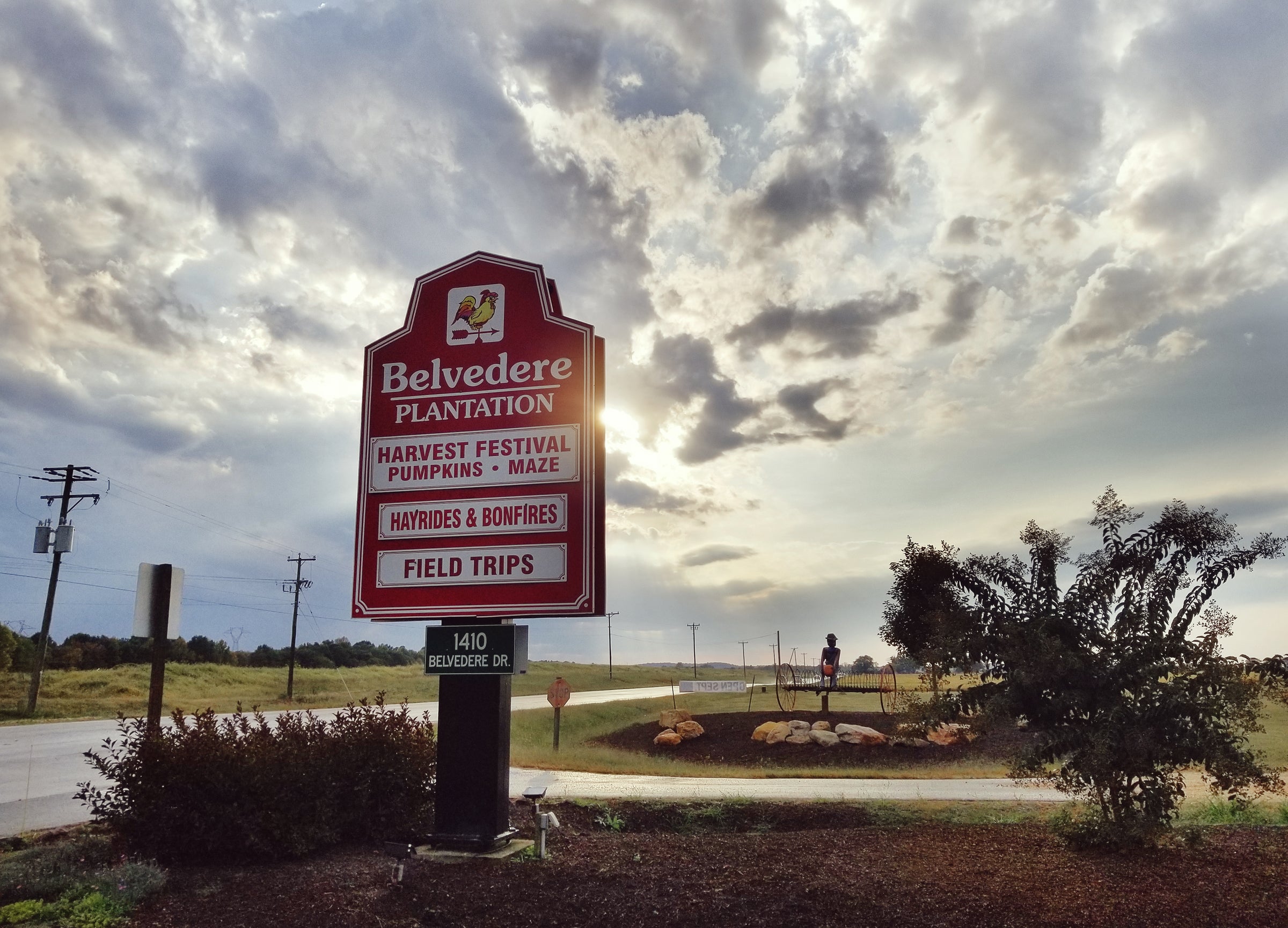 Belvedere is a more than 260 year-old farm on over 600 acres.
The Fulks family purchased the property in 1968. The farm continues to be a working production farm growing grain crops and pumpkins. The Fall Harvest Festival featuring the Great Pumpkin Patch and the Great Adventure Maize Maze is our primary focus. Rye straw and other row crops are also grown on the farm.
Belvedere Plantation was built along the Rappahannock River in the 1760's by Col. William Dangerfield. It was a modest sized plantation. Sources relate that Col. Dangerfield annually exported 3,600 bushels of wheat, owned numerous horses, and was noted for his kindness and hospitality. Our knowledge of colonial life at Belvedere comes from the 1770's diary of John Harrower, the in-house tutor to the Dangerfield children.In November of 1775, the local Minute Men militia used Belvedere for their required twenty days of muster and drill. The militia consisted of over 250 men from the surrounding counties of Caroline, Spotsylvania, King George, Stafford and the City of Fredericksburg. Harrower writes that Col. Dangerfield was very hospitable to the militia, providing the men all manner of good victuals and supplies during their stay.The original three-story plantation house still stands with several additions, including the current family dining room, which was once a chapel. It has been continually inhabited through its history and is the current residence of M.R. and Judy Fulks, it is not open to the public. At the beginning of the 20th century, Belvedere was also known as "The Peony Farm". These flowers were cut as buds in May and then shipped to metropolitan cities in the northeast.Belvedere Plantation was purchased by McKendree G. Fulks in 1968. His son, McKendree R. Fulks, moved his family there in 1972. The first modern strawberry crop was harvested shortly afterwards. The strawberry fields grew to 20 acres during the height of the pick-your-own era of the early 1980's. The Great Pumpkin Patch began in 1983 to expand the direct marketing efforts of the farm. In 1997 The Great Adventure Maize Maze was opened. M.R., and his wife Judy retired in 2006 from grain farming but are still involved in the farm. M.R.'s son Donnie became president of Belvedere in 2007, and is assisted full time by two of his five sons, Ian and Quinn. Other family members you may see around the farm include, Donnie's wife Donna and Quinn's wife Audrey.
M.R. and Judy Fulks
Donnie and Donna Fulks
Ian Fulks
Quinn and Audrey Fulks